Anacortes, WA – They put the WA in Whale WAtching…
After Glacier, we arrived in Post Falls, ID as a stopover point. We didn't do much at all. We didn't rent a car so we couldn't go anywhere but there was a Wal-Mart less than a mile away so we biked around & bought a few things. After we left Idaho, we entered Washington! We stayed in Anacortes, WA, by recommendation from the lady that worked at Hertz in Montana. Man, she delivered! This place is amazing. Our site sat right on a bike trail into downtown Anacortes so we biked there the first night for dinner and drinks.
The 2nd day, we went to North Cascades National Park. We didn't have much time so we drove on the scenic highway for a little bit until we reached the Visitor Center. A Ranger there told us to go to the Hydro-Electric Dam and that there was a very short Loop there. Wow, did he steer us right! The Dam and the Powerhouse were pretty cool but the short hike was absolutely amazing. I've never seen an area like that. It looked like Middle Earth but smaller. Just amazing.
Then we headed back and made one of the best meals we've had a in a while: fresh river trout with a side of couscous and broccoli. Shane then went to Bellingham to do a stand-up show. (It was a competition based on audience applause &  he won!! Sadly, the prize was to return next week to be a feature act so he graciously let 2nd place have it.)
Day 3: We took the Anacortes Ferry to hop on over to the San Juan Islands where we booked a whale watching tour. It was indescribable. We apparently saw 3 families of whales socializing. There was 1 newborn whale which I myself couldn't pick out but the naturalists/tour guides on our boat were getting really excited. Those whales got SO close to our boat. We saw blowholes & I'm sure some people even saw eyes! I'll have to zoom in & study my pictures but what an experience! We also saw porpoises. No dolphins and no bald eagles. But the whales more than made up for it.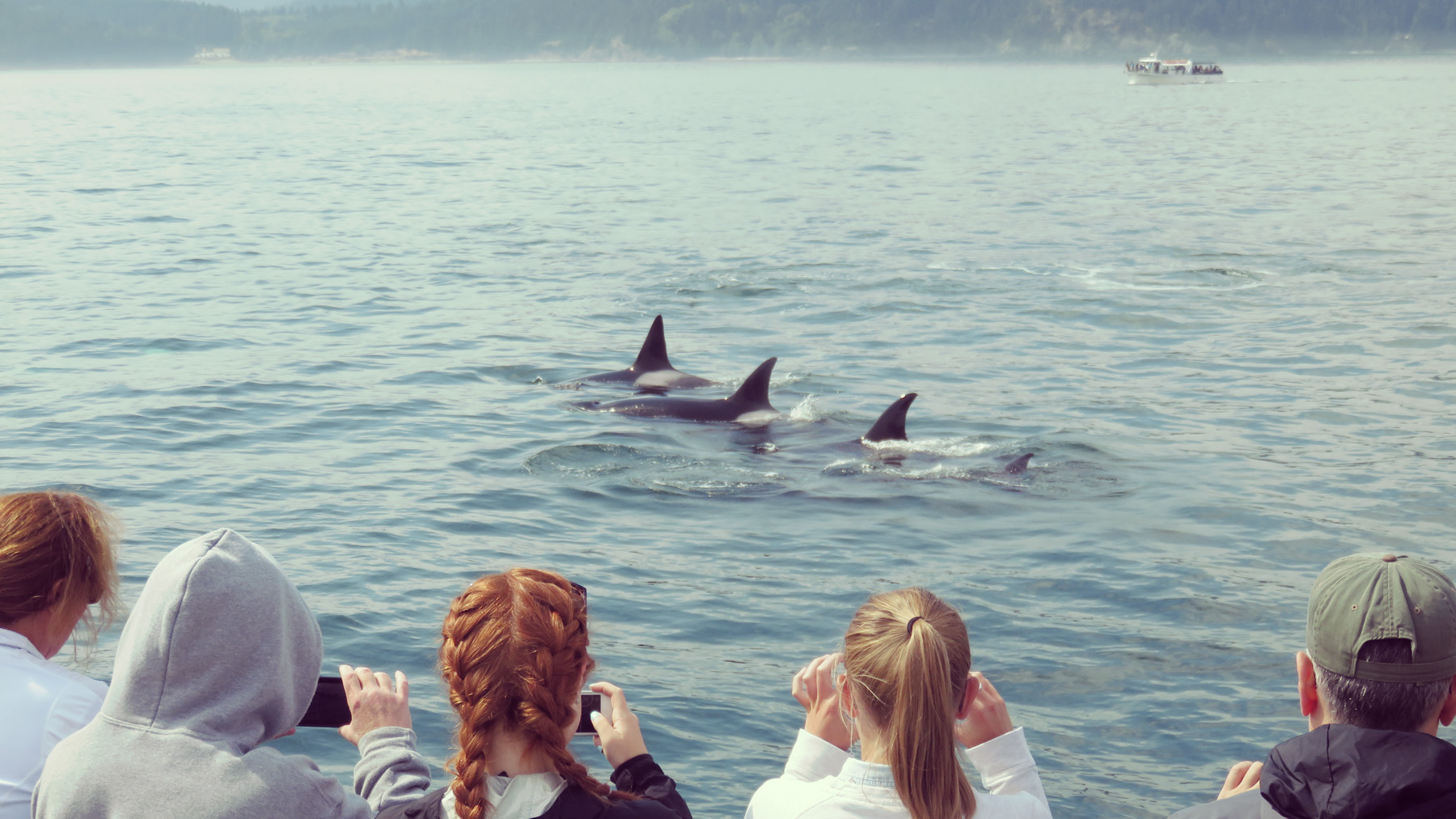 While waiting for the ferry to take us back, we met some great people from Tampa at a bar. (Kristen, Alli and Doug, if I remember correctly.) And then while ON the ferry, we met some other great people… at the bar. This couple, from SoCal (originally from England, and Belgium), are traveling in their RV like us! Except they're brave enough to just park anywhere whereas, we need to book places with good WiFi. We headed to the couple's RV after we got back to Anacortes and enjoyed more drinks and gluten free blackberry cobbler. We bonded over the nuances of traveling in an RV and parted ways with wishes of safe travels. Yesterday was such a good day overall. I wish that how would have been the entire trip. We expected to meet many new people but it's weird how many people keep to themselves while traveling in an RV, including us.
We left the next day with a great feeling about Anacortes.
Next stop: Ellensburg, WA and The Gorge Amphitheatre